Hesperides

Hesperides is an adaptation of Didier Willis' Dragon Flame to Mac OS X. Download it now.
The first launch of Hesperides is really slow, because it has to index the dictionary. Please just wait, and don't force-quit the app, it is not hung ! Next launches should be quite fast.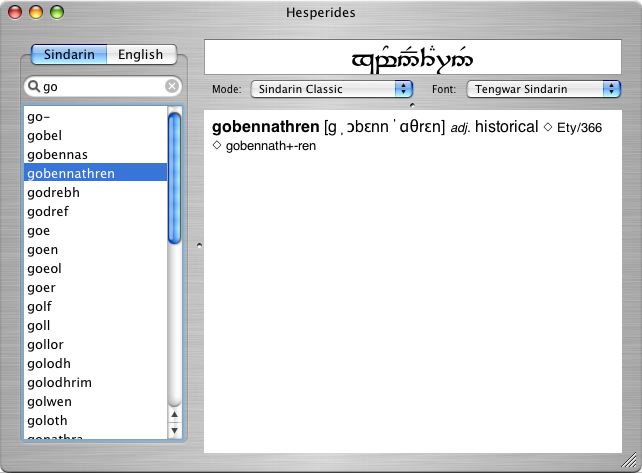 So, Mac Lovers can now be lambendili too : Hesperides integrates Didier's Sindarin dictionary, distributed on his web site as a XML file, with a state-of-the-art Mac OS X interface and the Narmacil engine (to display the words using Tengwar).
Hesperides needs Mac OS X 10.3 Panther to run.
Some tidbits :
Hesperides offers a "Transcribe to Tengwar" service. However, to make it work, you have to install the Tengwar fonts system-wide (they are included in Hesperides, but can be only used from within the application if you don't install them system-wide). So use Font Book to install the fonts located in the 'Fonts' directory of the disk image.
If you want to add other modes (Tengwar Scribe modes) to Hesperides, or other fonts (as long as they are TrueType), put any fonts or modes you want in your Library/Application Support/Hesperides folder (located in your home folder).
Hesperides is free software ; it is distributed under the terms of the GNU General Public License. (Source Code)
Any comments / suggestions ? Feel free to mail me. My address is thomas AT nousoft DOT org.